Reel Macs – Jack Stands
The Reel Mac series, also known as the "Real Jack" series, are heavy duty telescoping devices that hold reels up to 96″ in diameter.
See specs below for details on each model:
Reel Mac 60. Screw type telescoping reel jack for 26 to 56″ diameter. Capacity: 2500 lbs.
Reel Mac 70: Screw type telescoping reel jack for 46 to 96″ diameter. Capacity: 2500 lbs.
Reel Mac 80. Heavy duty ratchet drive reel jack for reels up to 90″ in diameter. Convenient, detachable ratchet handle stores in base when not in use. Capacity: 3750 lbs.
Mfg Note: Sold as single units. Must order 2 for a set. New stock is black in color.
| | |
| --- | --- |
| Reel Macs – #60 | 11860 |
| Reel Macs – #70 | 11870 |
| Reel Macs – #80 | 11880 |
Features:
Self-lubricating Roller Bearings – no grease required.
Quick-action lock washer for fast positioning.
Fall Guard feature to reduce pinching. One-bolt disassembly – no welding required for service.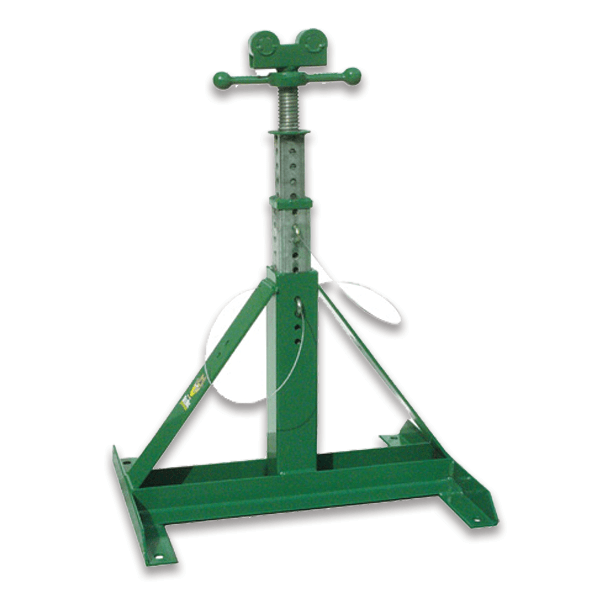 Working in the trades can be tough on the body, and it never hurts to spend a little time in the gym taking care of your body so you can get through the work day. But this isn't a fitness blog, so that's not our focus. When we tell you to get jacked with The Real Jack, we're talking about the lineup of Reel Mac reels that help you quickly and easily load spools on the job site. You get a heavy-duty tool with the Reel Mac series. One that can keep up with your demands and not fail when you need it.
The Reel Mac is available in a three different sizes. Each individual Reel Mac is sold as a single unit. If you want a set for the worksite, you'll need to order two Reel Macs. When you have a massive wiring job that requires big spools, The Real Jack is all you need to get it done.
Meet the Reel Macs
The series of heavy-duty spools known