Part #11455
Rack-A-Tiers Wire Dispenser
The Rack-A-Tiers Wire Dispenser is the one tool that DOES IT ALL. It's no surprise that we've sold hundreds of thousands of them to electricians everywhere. This genius invention is most commonly used for dispensing wire from spools of various sizes, but just flip through the images to see its many other uses!
This tool is versatile, waterproof, rustproof, rugged, and very reliable. It even locks together to make a comfortable seat!
Features
Works with spools up to 34″ in diameter
Rated: 330 lbs.
Material: High-density polyethylene structural foam
Interlocking Pairs
Easy to set up
Have you ever taken a second to look behind the entertainment center in your home, or perhaps behind the desk where you keep the family desktop? If you have you no doubt noticed the jumble of cords and wires piled up in the back. The average flatscreen TV has wires for power, HDMI for TV, HDMI/AV cables for video, and maybe even HDMI for a video game console. Keeping all those wires straight can be a chore.
The same can be said for the back of your work van or the job site while installing electrical wiring and other cables. Just like the cabling for household electronics, wiring for electrical jobs comes in all different shapes and sizes. Keeping it all straight isn't just a matter of cleanliness. When you have your wires in order, jobs are completed more accurately and with greater speed. That's why we made the Rack-A-Tiers Wire Dispenser.
The Tool that Does it All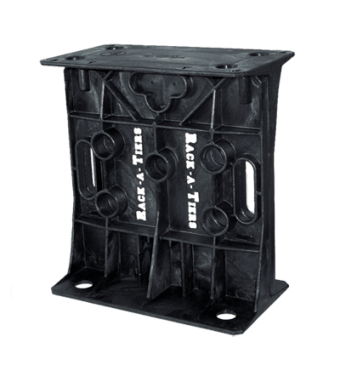 The Rack-A-Tiers Wire Dispenser is meant to make your work day easier and keep it tidy from start to
| | |
| --- | --- |
| Weight | 9 lbs |
| Dimensions | 17in x 9in x 17in |