Part #PIF-UY
Plugfones Freedom Series VL
Bluetooth Wireless Volume Limited W/ Mic (Blue/Yellow). Finally, innovative hearing protection combined with music or cell phone use! AT WORK: Ear plugs certified to the ANSI noise reduction standards up to 30 dB. Head phone volume limiting technology that keeps the volume level of the Plugfones speakers at or below 82 dB per OSHA standards. Built with Tuff Cord tear resistant wires. AT PLAY: Wireless Bluetooth battery lasts up to 12 hours of play, USB rechargeable. Comfortable design that won't fall out like regular ear buds.
EARPLUGS AND HEADPHONES ALL IN ONE, SO YOU CAN WORK HARD AND ROCK HARD.
Features:
SoundSeal Noise-Suppressing Technology.
Interchangeable ComforTwist Foam Plugs with Noise Reduction Rating of 23 db.
Interchangeable ComforTiered Silicone Plugs with Noise Reduction Rating of 26 dB.
Bluetooth 4.1 Wireless Technology.
Never Out Battery – Up to 12 Hours of Play.
Fast Charge.
IsoTalk Noise Isolating Mic.
Quickdraw Easy Access Control.
Tuned Speaker.
Sweat-Resistant.
Independently Tested and Compliant With ANSI S3.19-1974 Noise Reduction Standards as Certified by Michael & Associates, Inc.
Unique Patent Pending Design.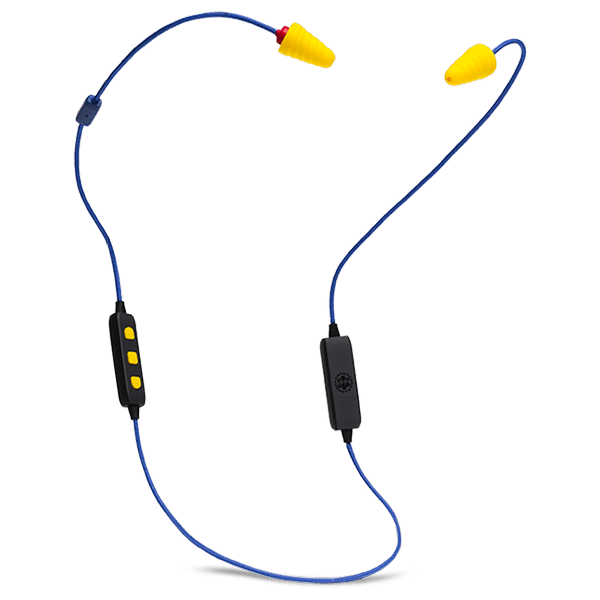 Hopefully the exclamation point in our title wasn't necessary for you to hear us, but it makes a nice point. Do you have older relatives you have to shout at because they've lost their hearing with age? Surely, you've at least noticed how grandparents and older aunts/uncles tend to listen to the television at deafening levels. Well, just because you work in the trades doesn't mean you have to put your hearing at risk. Ear plugs are a common sight on the job site. Smart workers wear them to ensure they don't become one of those lovable old folks.
However, the 21st century has brought a lot of advances in technology. Why is it that we're still stuffing foam earplugs in our ears then?! Now you have a better choice with the Plugfones. These crafty earplugs come in five different series, and do more than protect your hearing. While you protect your ears from the loud noises, you can drown it out with your favourite music too! Learn all about the Plugfone series here!
Freedom Series