Penguin Puller
The Penguin Puller Sr. and Jr. are revolutionary new tools designed to aid in easily pulling in large cables. The sleek, bullet shape allows for seamless pulling, no tape or crimps required. Utilizing four slots and Allen-key set screws the Penguin Puller Sr. and Jr. are rated for 4,000 lbs. of pull strength. These tools are the cool new kids on the block and there to stay when it comes to pulling wire!
| | |
| --- | --- |
| Senior | 69700 |
| Junior | 69705 |
Features:
4,000 lbs. MAX PULL STRENGTH.
4 Wire Slots.
Attachment hole for Sr. & Jr. is .63 of an inch in diameter.
Penguin Puller Sr. – 3/0 to 350 MCM Copper or Aluminum (2-1/2″ Pipe or Larger).
Penguin Puller Jr. – 2/0 to 4/0 Copper or Aluminum (2″ Pipe or Larger).
No tape, no crimps, no mess.
Reusable.
Although unavoidable on many jobs, pulling wires is one of the more despised tasks that contractors and electricians must do. Pulling a wire isn't difficult, but it is cumbersome and time consuming. What electrician hasn't been aggravated at a wire that won't go through a small hole? It's this aggravation that prompted the idea of the Penguin Puller — a tool that makes pulling wires much, much easier.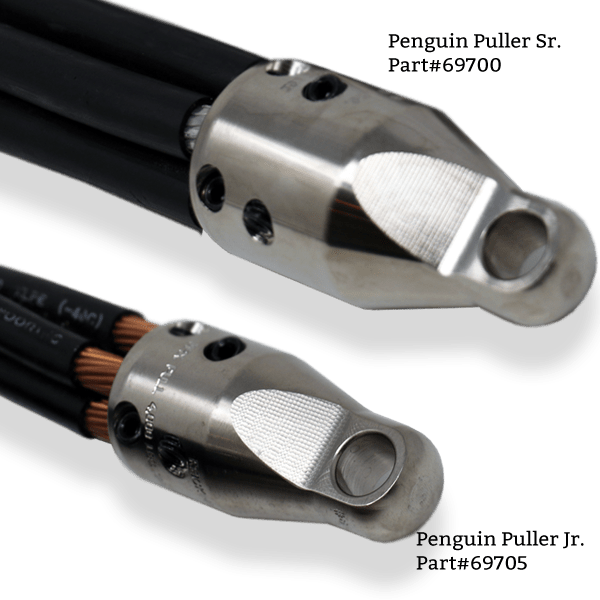 A Tool to Pull Wires
The Penguin Puller is a specialized tool that lets contractors and electricians pull wires without taping or crimping. It features four slots and an Allen-key screw that makes attaching the Penguin Puller to the end of a wire easy. Once attached, pulling the wire through even narrow passages is also painless, thanks to the tool's tapered, bullet-shaped end. There's no need for tape, crimps, wire socks, wire grips or any other similar tool.
The Penguin Puller comes in two sizes the Penguin Puller Sr. and the Penguin Puller Jr.
Penguin Puller Sr. (Part# 69700) Good for wires 3/0 – 350 MCM