Features:
Universal Phone Holder Wide compatibility – fits 3.5″ – 6″ smartphones and devices
Made of High-Quality Material – highly breathable, ultra-light and comfortable to wear
360 degree Rotatable design – provides the perfect angle
Hands free – never worry about holding or dropping your phone again
Strong silicon material holds your phone securely
Sure, everyone thinks they need an extra set of hands on the job, but what would really make life easier is an extra set of eyes, right? We're talking the kind of eyes you can use to look inside walls, navigate through tight access points, and check connections in those impossible-to-reach spots.
While we can't give you super-human powers (yet), here at Rack-A-Tiers we've done the next best thing – we're bringing a high-definition, WiFi-powered inspection tool to North America so you can see through walls like a boss. Developed in New Zealand and field-proven throughout the U.K. and Australia, the Ferrett is the world's first wireless inspection cam that's built tough for tradespeople.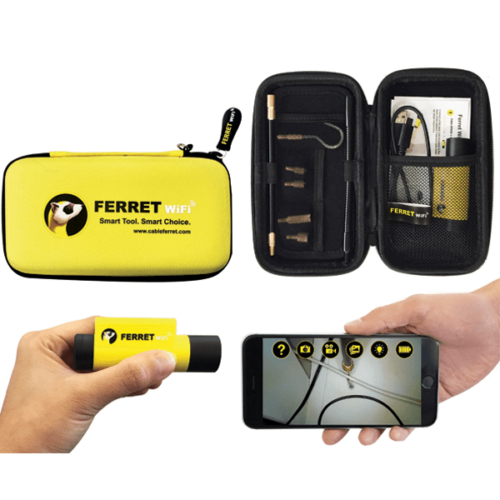 The Ferret WiFi Inspection Tool
The Ferret WiFi Inspection Tool from Rack-A-Tiers pairs with the smartphone you already own to create the ultimate high-definition inspection camera. Simply download the Ferret mobile app to your Apple or Android device, pair it up with your Ferret, and use the included attachments to connect this handy little cam to virtually any type of cable fish rod