Part #48000
Driller's Dust Bowl
The flexible Driller's Dust Bowl compresses against the work surface and traps all dust and debris as you drill. The bowl fits your drill and hole saw without any adjustments needed.
You may enjoy a face full of drywall dust, but your customers might not. Put an end to "unprotected hole sawing" and wrap up with the Driller's Dust Bowl.
Please note hole saw is not included.
Features:
Easy disposal of debris.
Works with hole saws up to 8″.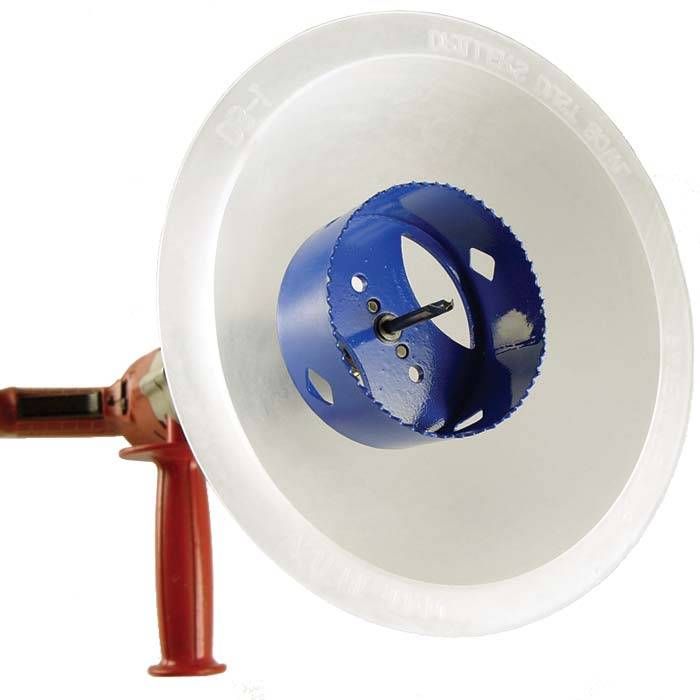 There's no better way to get the upper hand in an old-fashion fist fight than to throw a handful of dust, dirt, or mud in the other guys face. While he's blinded, it's your turn to the turn the tables and get the upper hand. However, the job site is no place to get a face full of dust, dirt, or any other kind of debris.
We know, we know. You probably already have a good pair of protective glasses you wear on the jobsite. That's all well and good for the nails, staples, and other debris on the jobsite. Most glasses are designed to withstand impacts more than they are simply used to keep small particles out of your eyes. If you want to ensure the safety of your eyes, the Driller's Dust Bowl is a must! Whether you're installing can lights or drilling wiring holes, the Driller's Dust Bowl keeps you clean.
Eat My Dust!
The Driller's Dust Bowl is a simple tool from Rack-A-Tiers. The bowl can be applied to the end of any