Part #84000
Dirt Bag
The Dirt Bag is specifically designed to eliminate unwanted metal shavings from spreading throughout a panel while drilling. Utilizing extra strong rare earth magnets in the frame. The Dirt Bag clings to the metal surface to catch all debris caused by drilling. A simple, portable tool the will save you time and headaches down the road. Please Note: Not to be used on live panels.
Features:
Frame measurements: 5″ x 5″ OD – 3 7/8″ x 3 7/8″ ID.
Ensures that your safety is #1.
Magnet in base of bag attracts fillings.
Easily attaches to metal surfaces.
Made from non-conductive material.
Removable magnet included in bag pocket.
Anti-static liner.
Fits most panels.
Not to be used on live panels.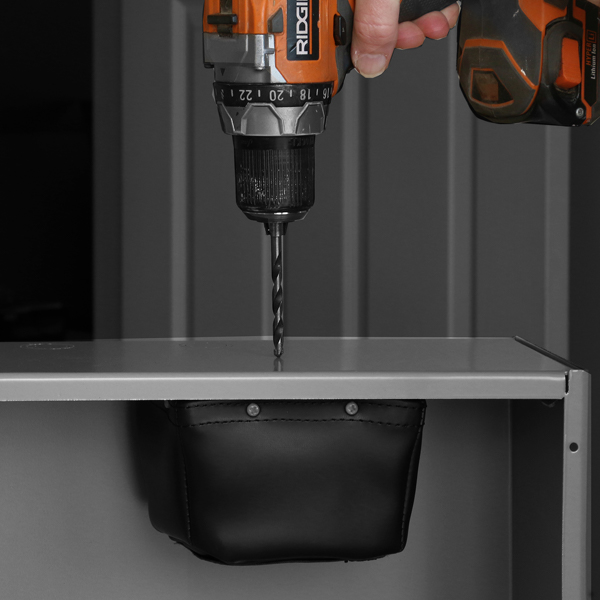 Remember the kid in class during high school that always had one last question? Your teacher was moments away from dismissing the class early, giving you more time to socialize with friends between periods. Before doing so though, the teacher always asked: "are there any more questions?" No doubt there were a few choice words for that poor soul who raised their hand.
On the job site, there's nothing worse than a co-worker or contractor that doesn't clean up after themselves. These individuals are like the student with that one last question. You want to get mad and call them names, but it's not productive. Well, now there's a tool to help keep the job site clean while you're drilling in electrical panels. The Dirt Bag is a premier electrical safety drilling tool, and it's available to you from Rack-A-Tiers.
Who You Calling a Dirt Bag?
OK, so it's not a matter of name calling really. It's just an accurate title for the product. The Dirt Bag, available now for purchase from Rack-A-Tiers, is a great little