Part #11902
Caddy Mac #2
The Caddy Mac #2 holds 16 to 24 spools of #12 AWG. Hinge design allows easy access to all spools for wire dispensing and folds for compact storage. Spindles swing out to set position for convenient loading of wire spools. Inner spindles store in special loops which can hold four pieces and will not fall out during transportation.
Features:
Load Capacity: 400 lbs or 180 kg.
Weight: 72 lbs or 33 kg.
Width: 26in or 66cm.
Folds up for compact storage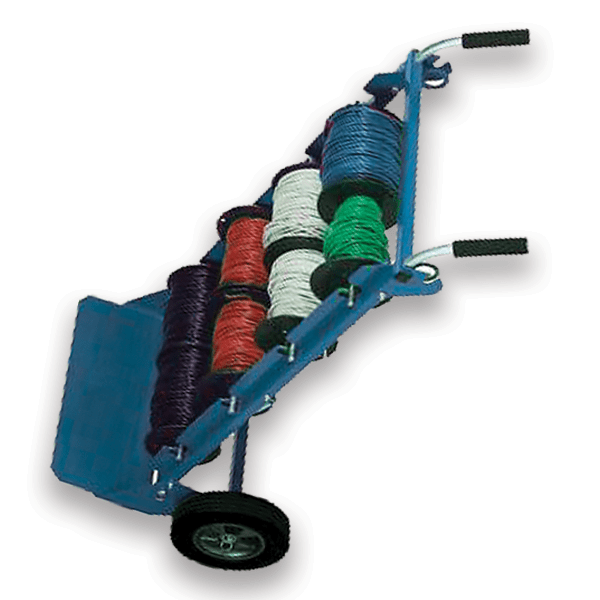 If there's one thing no one enjoys, it's hauling around a bunch of stuff. Whether you're talking about diaper bags and strollers for kids, or all your work equipment on the job site, it's just not fun or easy. Thankfully, Rack-A-Tiers has you covered once again. Electricians know the pain of hauling around spools upon spools of wire. If you're working on a big install, you could have countless spools of different sizes. Lucky for you, the Caddy Mac series of spool and spindle transports makes it all easier to do.
As you shop around on Rack-A-Tiers, you'll notice we have two different Caddy Macs. If you need a simple spool hauler, Caddy Mac #1 is your choice. Want to take it up a notch? Look into the Caddy Mac #2. No matter which one you pick, this is a piece of equipment you want in the truck. Learn more about both products below!
The Caddy Mac #1
The entry model, if you want to call it that, is the Caddy Mac #1. This multipurpose tool is